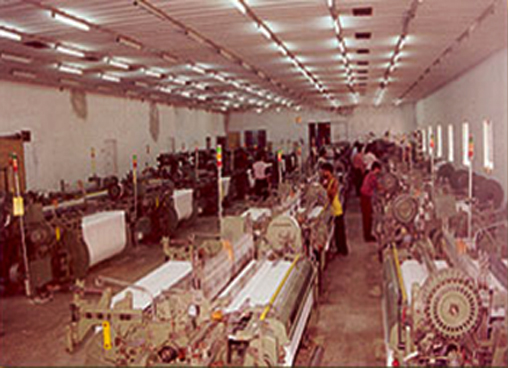 The Fabric Division started operations in 1993 with the weaving of blended fabrics. Subsequently, we have added facilities for processing & finishing blended fabrics.

The weaving facility uses imported shuttle less looms and its suppliers have acknowledged that our weaving machines are operating at the highest efficiencies in the country.

The fabric processing facility employs know-how from one of the world's largest polyester viscose fabric manufacturers.

We are positioned to offer one stop shopping for fabrics created from a new generation of polyester blended yarns, replicating the properties of cotton, wool, silk, linen, and beyond.




All of our fabrics are available in grey dyed, and printed form, in 44" and 58" finished widths.
| | | | |
| --- | --- | --- | --- |
| No. | Type | Description | Weight Range (gsm) |
| 1 | Failles | Classic fabrics | 65-134 |
| 2 | Georgettes | High twisted fabrics | 65-131 |
| 3 | Bottom Wear | Heavier fabrics in classic and novel weaves, twill, drill, tences, fancy weave fabrics in blended yarn | 177-266 |
| 4 | New Fabrics | Fabrics employing special weaves, yarns, & finishes | 66-213 |
We are manufacturing of following blends of fabrics :-
1. Polyester / Viscose
2. Polyester / Cotton
3. Polyester / Wool

Design Development & Quality Assurance
Monitoring of Design trends / seasonal needs and constant development work enables to respond rapidly to market demand and buyer needs. Higher Standards of inspection at all stages, using the latest test equipment, ensures the near perfect quality and 'integrity' of blended textiles Multi-terminal computers reinforce production control applicants.
The Finest Range of Fabrics
We are manufacturing an impressive variety of suitings ranging from range consisted for information. The ' wool form Australia and sophisticated techniques our produces glorious Fabric ranges form light weight pin top dyed and in piece dyed in super 120's to blends in the 60's. The numerous shades, weaves and texture in this range of blended fabrics offer the best choice to buyers.
Weaving Machines
A well-laid out weaving shed houses microprocessor controlled projectile weaving machines. The machines are the world's highest rated weaving equipment, capable of producing the highest quality of fabrics.
Finishing
The finest high technology machines finish the fabric to perfection. These machines use a process sequence that is automatically controlled by a punch card system. In this way, perfect uniformity is ensured, thus avoiding lot variations.
Information Technology M.K. Exim is equipped with state-of-the-art technology. Right from raw material sourcing to product finishing, meticulous attention is paid to detail at every stage of production. The emphasis is to achieve shorter lead times and greater efficiency by following the proven processes of integrated yarn preparation, spinning, weaving and finishing.

OUR USP

Product Mix
M.K. Exim offers an unmatched range of products for the customer including Polyester Viscose, Polyester Cotton and worsted suitings. The range consists of Polyester Viscose & Polyester Cotton Blended Shirting, Finest blends of best quality Polyester Viscose and Polyester Cotton Blended Suitings, Premium Purewool Suitings, Luxurious Polyester Wool Blended Suitings
Multifunctional Fabrics
Always on the lookout for innovating and making a mark, M.K. Exim has developed the following range of multi-functional fabrics.
• Stayfresh : Keeps one fresh round the clock
• Zero crush / Wrinkle free fabrics : Non-crushable fabric with superior crease recovery.
• LAD (Launder Air Dry) / Wash n' wear fabrics : Can be easily washed and worn after air-drying.
• Ultraxx Bi : Stretch fabrics on spun base that provide freedom of movement.
• Bio-Maxx : Enzyme treated / Bio-polished Polyester Viscose and Polyester Cotton fabrics for silky handle.
• C-Maxx : Chemically treated fabrics for unique surface finishes and soft handle.
• Micro/Viscose rich blends : 0.8 Denier spun Poly-Viscose fabrics for silky handle.
• Viscose rich fabrics : Offer superior fall, feel, drape and comfort.
• Rotormat/Lisa finish : Fabrics with customized Italian enzyme/Lisa surface finishes in 100% Cotton and premium blends of Polynosic, Modal, Tencel, etc.